Brand: DESU
Origin: Shanghai, China
Width: 300-1400mm
Barrier material: Thermoforming EVOH PE PET Plastic Sheet Roll
Processing methods: Lamination / Multilayer co-extrusion
Thickness: 0.2-2.0mm
Weight: 50-150kg/roll
Shape: Roll/Sheet
Color: Transparent/Custom color
MOQ: 5tons
Product Introduction
EVOH is the most widely used material with high barrier properties. It is widely used in PP, PS, PET, and PVC materials. DESE TECH supplies PP+EVOH+PP, PET+EVOH+PET, PS+EVOH+PS, PVC+EVOH+PVC, PP+EVOH+PE, PS+EVOH+PE, PET+EVOH+PE, PVC+EVOH+PE And other composite plastic sheets.
"EVOH" stands for ethylene vinyl alcohol. It is a plastic resin with excellent barrier properties against gases, especially oxygen. This makes EVOH a popular choice for food packaging applications, where an oxygen barrier is important to extend the shelf life of perishable products.
"PE" stands for polyethylene and is a commonly used plastic material known for its flexibility, toughness and chemical resistance. It is often used in packaging, containers and various other applications.
"PET" stands for polyethylene terephthalate, another widely used plastic that is transparent, strong and has good moisture resistance. PET is commonly used in beverage bottles, food packaging and other products where clarity and durability are important. Thermoforming is a manufacturing process that uses heat and pressure to form plastic sheets into various shapes. In this process, a sheet of plastic is heated until it becomes pliable, then it is stretched or molded into a specific shape using a mold or a vacuum.
"Thermoformed EVOH PE PET plastic sheet roll" refers to a plastic sheet roll consisting of EVOH, PE and PET material layers. This combination of materials can be used in packaging applications that require a combination of oxygen barrier (EVOH), flexibility (PE) and clarity/durability (PET). Rolls of plastic sheet are heated and shaped using a thermoforming process to create packaging or containers for various products.
Product Feature
Multilayer co-extrusion technology is a traditional sheet extrusion production process. The biggest advantage of this process is that it has extremely high machining accuracy and can maximize the performance of the processed material. Especially in the processing of high-barrier multi-layer co-extruded sheets, it has unparalleled advantages. The structure of multi-layer co-extruded sheet can be divided into two categories, namely symmetrical structure (A/B/A) and asymmetrical structure (A/B/C). Most of them are 5, 7, 8, and 9 floors. The structural layer of the multi-layer co-extruded sheet consists of three types of functional layers: barrier layer, adhesive layer, and support layer.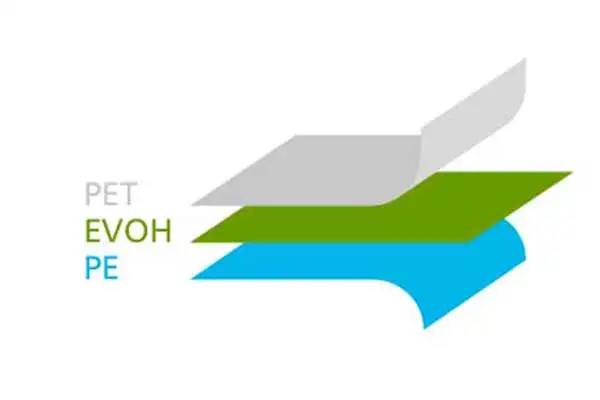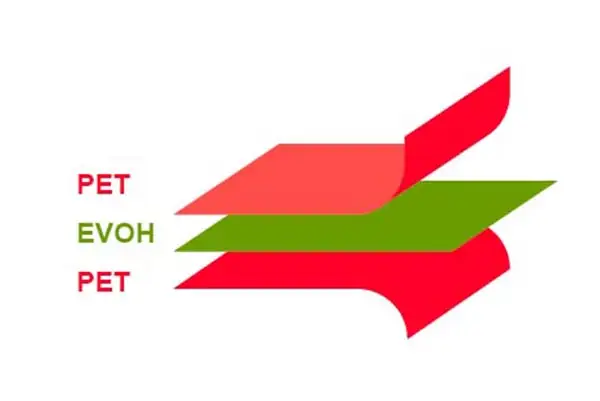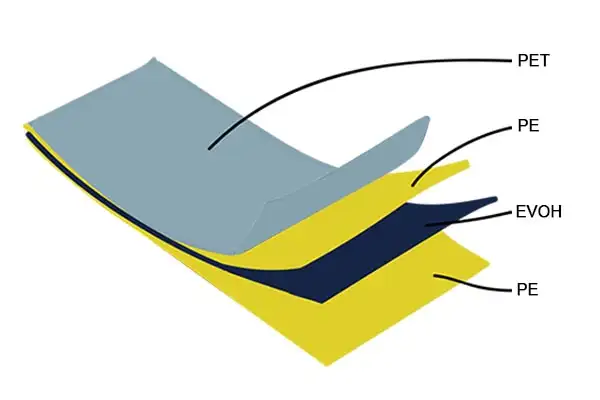 Product Advantage
1. Barrier Properties: EVOH is known for its exceptional barrier properties against gases, particularly oxygen. When incorporated into a plastic sheet along with PE and PET, it can create a barrier that prevents oxygen from permeating the package. This is particularly important for preserving the freshness and shelf life of perishable goods such as food products.
2. Versatility: The combination of EVOH, PE, and PET allows for a versatile packaging material that can be used for various products. It's suitable for both food and non-food items, offering flexibility in packaging applications.
3.Clarity and Transparency: PET is known for its clarity and transparency, which allows consumers to see the product inside the package. This is advantageous for showcasing the product's appearance and quality.
4. Impact Resistance: Both PE and PET offer good impact resistance, which means the packaging can withstand handling and transportation without easily breaking or deforming.
5. Forming Capability: These plastic materials can be easily thermoformed into different shapes, making them suitable for a wide range of packaging designs. This enhances the visual appeal of the packaging and can help products stand out on the shelves.
6. Recyclability: Depending on the specific grades and recycling facilities available, PE and PET are often recyclable. This aligns with the increasing emphasis on sustainable packaging solutions.
7. Cost-Effectiveness: PE and PET are relatively cost-effective materials, which can contribute to overall cost savings in packaging production.
8. Extended Shelf Life: The barrier properties of EVOH help to extend the shelf life of products by preventing the ingress of oxygen, which can lead to spoilage, degradation, and decreased product quality.
9. Reduced Food Waste: The extended shelf life and preservation of product quality can lead to reduced food waste, which is an important environmental and economic consideration.
10. Suitability for Modified Atmosphere Packaging (MAP): The barrier properties of EVOH make it well-suited for modified atmosphere packaging, where the atmosphere inside the package is adjusted to extend shelf life. This is particularly important for perishable goods.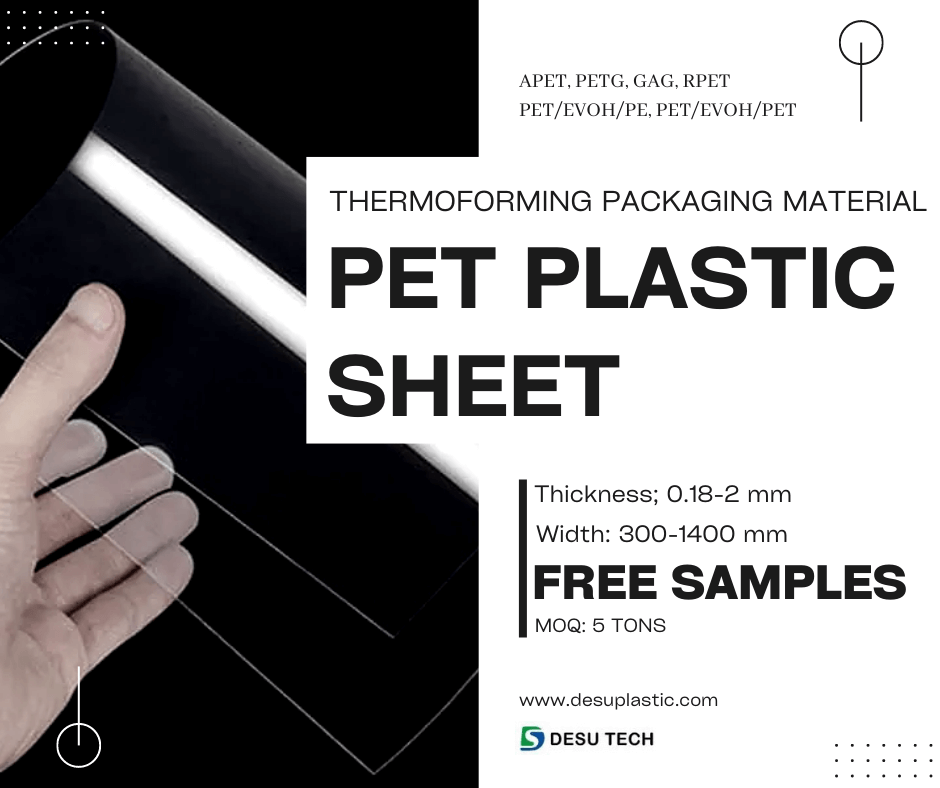 Good Thermoforming
High Transparency
High Barrier
Nice mechanical properties
Chemical Resistance
Eco-friendly
Recyclable
Product Application
Thermoforming EVOH PE PET plastic sheet rolls are mainly used in modified atmosphere preservation. Such as fruit packaging, cooked food, fresh meat, dairy products, flavorings, etc. It can also be used in non-food items, such as the packaging of chemicals and electronic components.
Company Introduction
Desu Plastic Technology (Shanghai) is Manufacturer & Exporter of EVOH PE PET Sheet Roll, professionally supplies all kinds of Rigid PET Sheet,PET Plastic usually divided into APET, PETG, GAG and RPET and mainly used for thermoforming, vacuum forming & blister packaging. We have passed a variety of international certifications and obtained relevant certificates like ISO, RoHS, SGS,FDA and GRS. Our PET Plastic exported to 40+ countries Distribute in America, Europe, Africa, Southeast Asia etc.
FAQ
1. Are you trading company or manufacturer ?
We are professional manufacturer of 17 years experience, We have two factories in Shanghai covering an area of more than 6,000 square meters. Our address is No. 32 Lubin Rd, Luyuan Industrial Zone, Pudong, Shanghai, China.
2. How long is your delivery time?
Generally it is 5-10 days after receiving your initial payment.
3. Do you provide samples ? is it free or extra ?
Yes, we could offer the sample for free charge by freight collect.
4. Do I need to pay the shipping cost for sample ?
Samples Shipping: Via International Courier (DHL, Fedex, UPS, TNT or Aramex etc…)
5. What is your terms of payment ?
Payment>=1000USD, 30% T/T in advance ,balance before shippment. we also accept L/C at Sight .