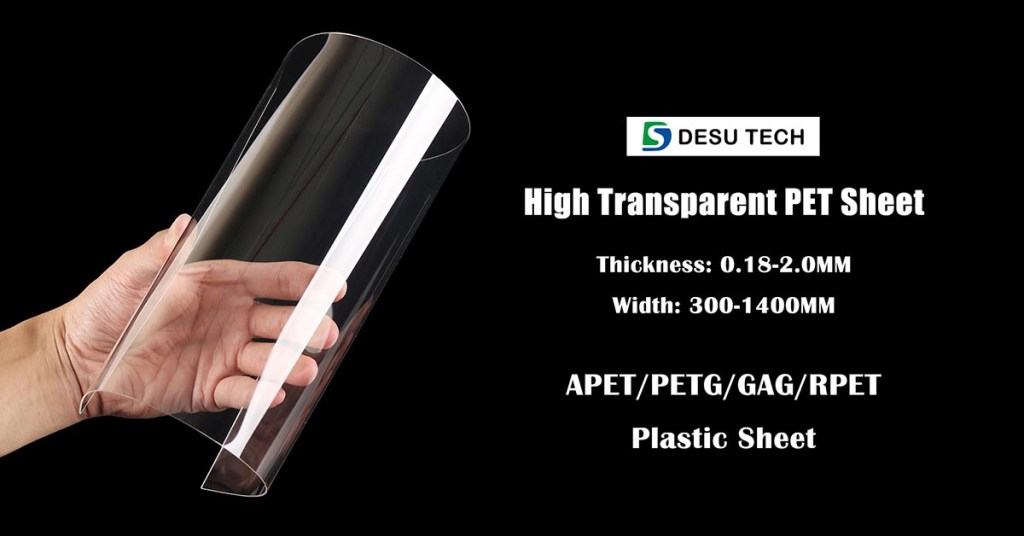 ---
Desu Technology (Shanghai) Co., Ltd., a professional manufacturer who produce rigid PET sheet, located in Shanghai which is the most economically developed city in China. We has a factory with an area of more than 10,000 square meters. Our plastic materials are mainly used in thermoforming vacuum blister forming packaging. The main categories are APET, PETG, GAG, RPET. Our products have high barrier properties, high brightness and high transparency function, excellent oxidation resistance and water resistance. At the same time, the quality is stable and reliable.
---
Product Specifications
| | |
| --- | --- |
| Product name | PET Sheet, Polyethylene Terephthalate Sheet, PET Rollstock, Polyester Sheet, Rigid PET Film. |
| Product Category | APET, PETG, GAG, RPET, PET/EVOH/PE, PET/EVOH/PET, PET/PE, etc. |
| Shape | Roll/Sheet |
| Thickness | 0.18~2.0mm |
| Width | 300~1400mm |
| Quality | Virgin/Recycled |
| PET Roll Diameter | ≤38 inch |
| Die Cutting Size | A2, A3, A4 or customized according to requirements. |
| Packing | PE film inside + kraft outside+pallet (paper tube diameter: 76mm, thickness: 10mm) |
| Color | Clear, White, Blue, Brown, Pink, Green, Yellow or Customized. |
| Performance | Anti-fog, ESD (Anti-static, Conductive, Static dissipative), Corona, Printing, Coating, High impact, EVOH high barrier, Waterproof, Oil-proof, Anti-UV, etc. |
| Processing technology | Thermoforming Vacuum Blister Forming, Die Cutting. |
| Hardness | Rigid/Semi-rigid |
---
Main PET Sheet Types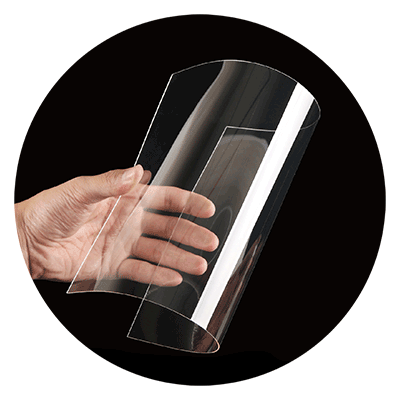 ---
Product Introduction
PET sheet is the abbreviation of Polyethylene terephthalate sheet, the chemical formula is (C10H8O4)n, it is synthesized by the exchange of dimethyl terephthalate and ethylene glycol ester (or terephthalic acid and ethylene glycol esterification) to obtain p-benzene Dihydroxy ethyl dicarboxylate, and then subject it to polycondensation reaction. It is a crystalline saturated polyester. It is a milky white or light yellow, highly crystalline polymer with a smooth and shiny surface. It is a common resin in life and can be divided into APET, GAG, PETG, RPET, etc.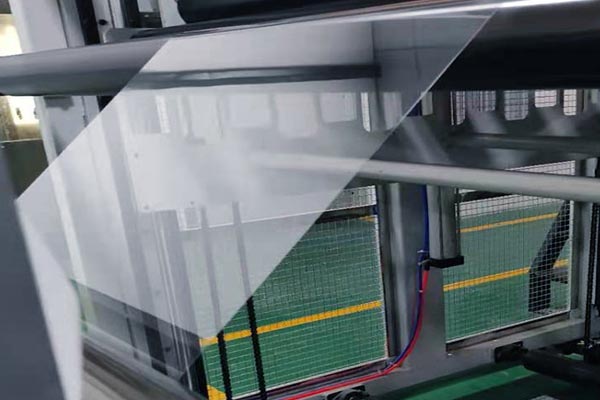 ---
Chemical structure of PET material

Physical and Chemical Properties
| | |
| --- | --- |
| Water absorption | 0.06%~0.129% |
| Impact strength | 64.1~128J/m |
| Rockwell hardness | M 90~95 |
| Elongation | 1.8%~2.7% |
| Melting point | 250~255°C |
| Operating temperature | -100~120°C |
| Flexural strength | 148~310MPa |
---
Thermoforming PET Sheet Thickness
Generally, the thickness of PET sheet that can be used for thermoforming is between 0.18~2.0mm, if other thicknesses are required, it needs to be customized.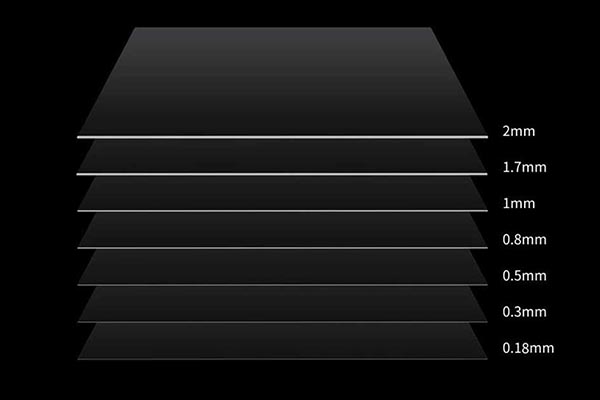 ---
Advantages of PET Sheet
PET sheet has good mechanical properties, impact strength is 3 to 5 times that of other sheets, and good folding resistance.
Resistance to oil, fat, dilute acid, dilute alkali, and most solvents.
It has excellent resistance to high and low temperatures. It can be used for a long time within a temperature range of 120°C, and can withstand high temperatures of 150°C and low temperatures of -70°C in short-term use, and has little effect on its mechanical properties at high and low temperatures.
The gas and water vapor permeability is low, and it has excellent gas, water, oil and odor resistance.
High transparency, can block ultraviolet rays and good gloss.
Non-toxic, tasteless, good hygiene and safety, and can be directly used for food packaging.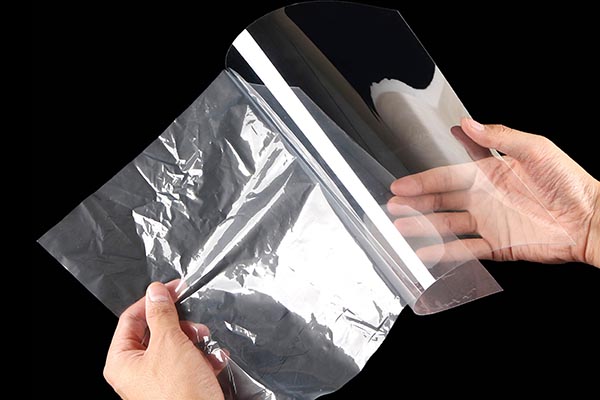 ---
Applications of PET Sheet
PET sheet is a newly developed new type of plastic product, so what is the difference between it and our traditional plastic? First of all, the production process of this material is more complicated. It is produced through a series of compression polymerization processes using high-precision machinery.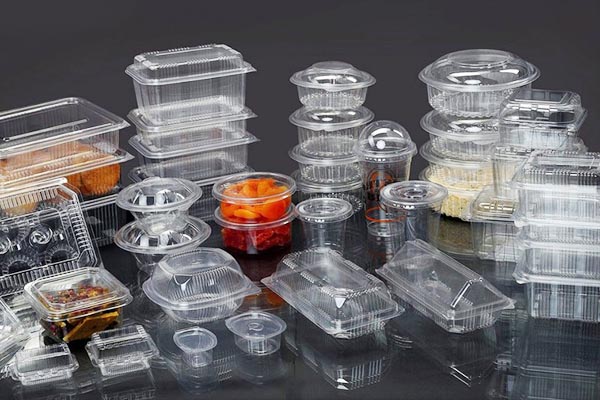 The plastic we generally see is a translucent substance, but the transparency of this material It can be changed according to its specific requirements, and because of its good ductility and plasticity, it can also be placed in our home or office as a decoration. At the same time, even if its life is reached, it will burn when it needs to be recycled. It will not produce any polluting gas, and the harm to the environment is minimal. DESU rigid PET plastic sheets are mainly used for Fresh Meat packaging, Processed Meat Packaging, Poultry packaging, Fish packaging, Cheese packaging, Pasta Packaging, Medical Packaging, MAP and Vacuum Packaging, Electronic product trays, Folding boxes, etc.
---
DESU PET Sheet Factory
The factory covers an area of more than 1,0000 square meters and is located in Shanghai, China. There are 6 co-extruded production lines on DESU TECH. Using international advanced equipment and production technology, we can produce pet sheets with a thickness between 0.18~2.0 mm.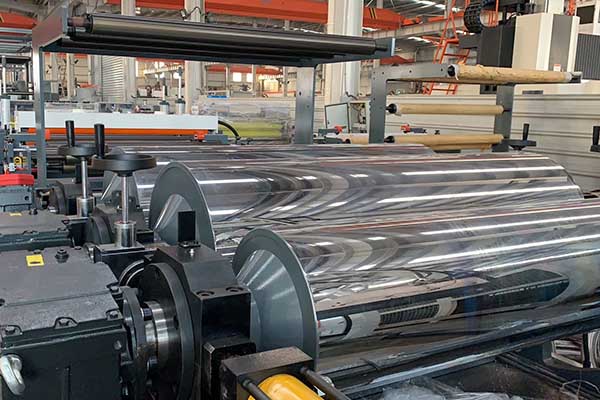 ---
Strictly Control Product Quality
DESU has established a quality inspection department with professionals responsible for quality inspection. We have been cooperating with large-scale raw material companies for a long time. All raw materials are provided with inspection reports. The entire quality management process from raw material entry to production processing and finished product inspection is strictly implemented and passed ISO9001: 2008 quality management system certification. In response to market demand, we continue to develop and innovate high-quality products.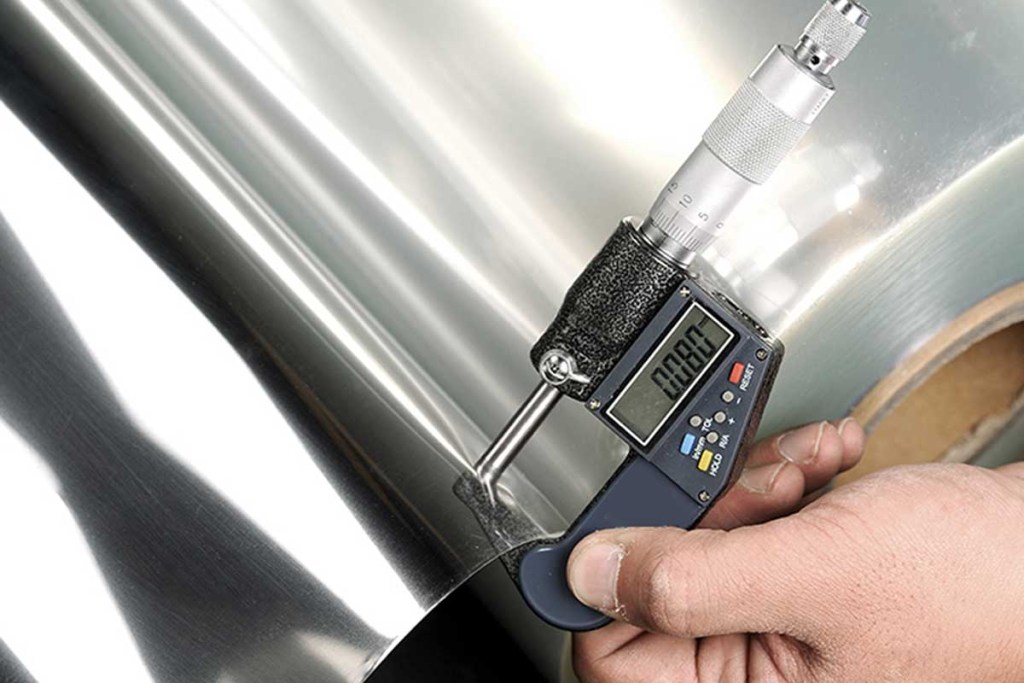 ---
Ship to The Worldwide
DESU PET sheet rolls are exported to many countries around the world. Our market is oriented to Southeast Asia, the Middle East, Europe, South America, North America, Africa, Central Asia, South Asia, etc. Regardless of your demand, we can produce it within the specified time. No matter how far away the customer's country is, we can make your products arrive in time. As a model enterprise in China's plastics industry, DESU will further explore the international market and look forward to cooperating with you.

---
Global Recyclable Standard (GRS) Certificate
At present, there are many disposable consumer products in PET products, which produce a large amount of waste PET materials, which are not easily degraded by air or microorganisms in a short period of time, causing pollution. Therefore, encouraging the recycling and reuse of recycled waste PET materials is of great significance to environmental protection and resource conservation.
---
Notes on PET Sheet
Due to its special properties, pet sheet is sensitive to temperature, so try not to use it in ultra-high temperature and ultra-low temperature, and avoid contact with hard metal objects to avoid scratching its surface. If it has a high degree of transparency and surface smoothness Requirements, it is best to cover it with a layer of protective film, sometimes double-sided film may be required.
---
Purchase Notice
| | |
| --- | --- |
| MOQ | 5 tons |
| Payment methods | T/T, L/C, D/P, D/A, O/A, Western Union, MoneyGram, Cash. |
| Monthly production | 3000-5000 tons |
| Delivery time | 7–15 days |
| Port | Shanghai\Ningbo |