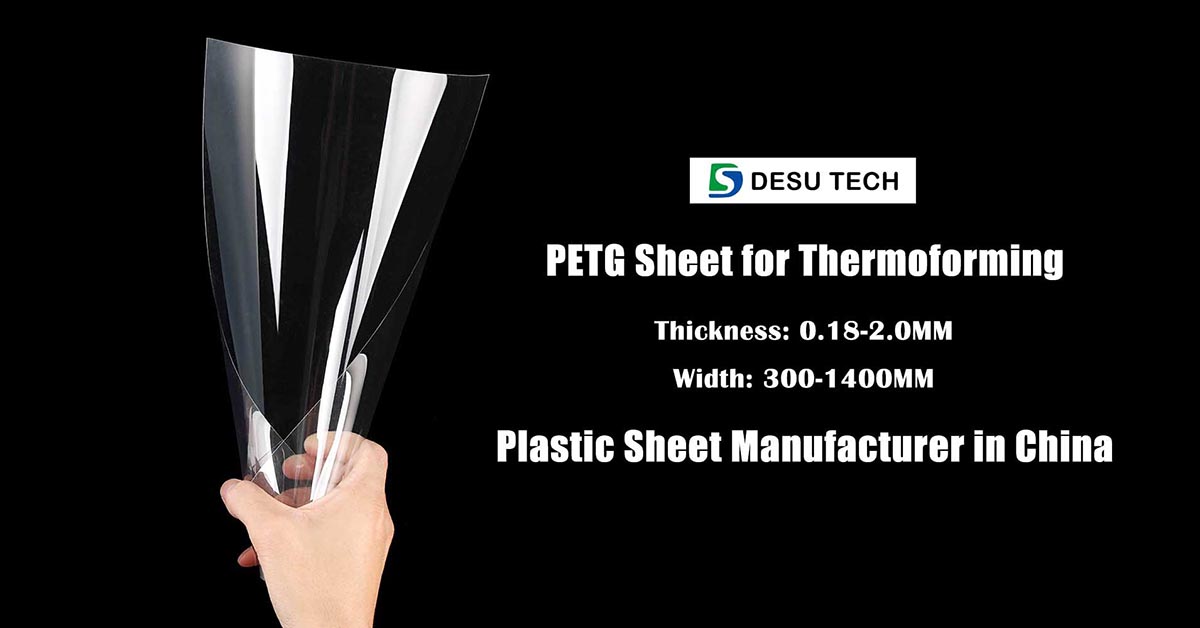 ---
Desu Technology (Shanghai) Co., Ltd. produces PETG sheet roll with a thickness of 0.18~2.0mm, generally thicknesses are 0.18, 0.2, 0.3, 0.4, 0.5, 0.6, 0.7, 0.8, 0.9, 1.0, 1.1, 1.2, 1.3, 1.4, 1.5, 1.6, 1.7, 1.8, 1.9, 2.0mm, or customized according to customer needs. The product is suitable for thermoforming packaging materials, die cutting, etc.
---
Specification
| | |
| --- | --- |
| Product name | PETG Plastic Sheet Roll, Polyethylene Terephthalate Glycol Sheet, Rigid PETG Film Sheet |
| Shape | Roll/Sheet |
| Thickness | 0.18~2.0mm |
| Width | 300~1400mm |
| Quality | 100% Virgin |
| PETG Roll Diameter | ≤38 inch |
| Packing | PE film inside + kraft outside+pallet (paper tube diameter: 76mm, thickness: 10mm) |
| Color | High clear |
| Performance | Anti-fog; ESD: Anti-static, Conductive, Static dissipative. Printing; Coating; EVOH; Waterproof; etc |
| Processing technology | Thermoforming Vacuum Blister Forming; Die Cutting. |
| Hardness | Rigid/Semi-rigid |
---
Introduction
PETG (Polyethylene Terephthalate Glycol), also known as GPET, is an amorphous PET resin modified with cyclohexanedimethanol. Its melting point is relatively low, only 180℃~200℃. PETG sheet has the characteristics of APET sheet. At the same time, its biggest feature is outstanding thermoforming performance, easy operation and reliable quality during thermoforming. Compared with APET, PETG does not crystallize at a very high molding temperature. It is suitable for vacuum forming, even able to obtain complex geometric shapes.
---
Physical and Chemical Properties
| | |
| --- | --- |
| Density | 1.30~1.38g/cm³ |
| Rockwell hardness | 106 ~ 116 |
| Tensile strength | ≤8700psi |
| Elongation (Break) | 10%in |
| Shrinkage | 0.010 ~ 0.015in |
| Melting point | 180~200℃ |
| | |
---
Advantages of PETG Sheets
PETG sheets are easy to produce products with complex shapes and large stretch ratios. Moreover, unlike PC board and impact-modified acrylic, this board does not need to be pre-dried before thermoforming. Compared with PC board or acrylic, its molding cycle is short, the temperature is low, and the yield is higher.
The extruded sheet of PETG sheet is usually 15 to 20 times tougher than general acrylic and 5 to 10 times tougher than impact modified acrylic. It has sufficient bearing capacity during processing, transportation and use, which helps prevent cracking.
It provides excellent weather resistance. It can maintain the toughness of the product and prevent yellowing. It contains ultraviolet absorbers, which can be co-extruded into a protective layer to protect the board from the harmful effects of ultraviolet rays.
It can be sawed, die-cut, drilled, punched, sheared, riveted, milled and cold-formed without breaking. It can also be processed for flocking, electroplating, static electricity, etc.
PETG sheet can withstand a variety of chemicals and common cleaning agents.
The PETG sheet substrates are all environmentally friendly materials, which meet the requirements of food contact management.
It is cheaper than PC board and more durable than acrylic.
---
Application of PETG Sheet
PETG sheets are widely used in cosmetics, medicine, electronics, food packaging, such as face masks, mobile phone trays, perfume bottles, cosmetics bottles, beverage bottles, lipstick tubes, cosmetic boxes, deodorant packaging, talcum powder bottles and eyeliner covers, etc.
---
Best Price and Reliable Quality
The excellent performance of the PETG sheet produced by DESU Technology makes it popular in the international market. As a professional PETG sheet survivor, we strictly control the product quality. The scale and research and development advantages of DESU Technology enable it to provide the best price and The most reliable quality in the Chinese market.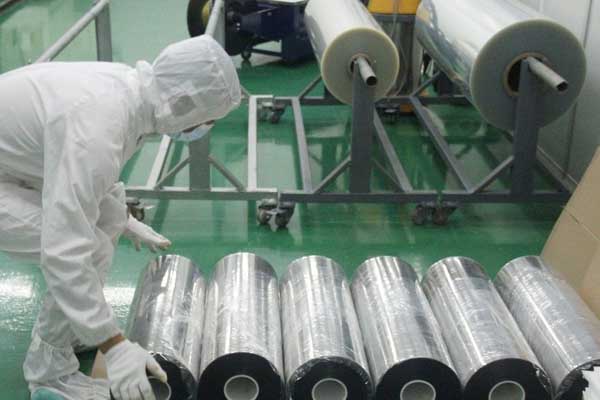 ---
Purchase Notice
| | |
| --- | --- |
| MOQ | 5 tons |
| Payment methods | T/T, L/C, D/P, D/A, O/A, Western Union, MoneyGram, Cash. |
| Monthly production | 2000-3000 tons |
| Delivery time | 7–15 days |
| Port | Shanghai\Ningbo |