Brand: DESU
Origin: Shanghai, China
Width: 300-1400mm
Barrier material: 2.0 mm PET plastic sheet for vacuum forming
Processing methods: Lamination / Multilayer co-extrusion
Thickness: 0.2-2.0mm
Weight: 50-150kg/roll
Shape: Roll/Sheet
Color: Transparent/Custom color
MOQ: 5 tons
Introduction of 2.0 mm PET plastic sheet for vacuum forming
2.0 mm PET (Polyethylene Terephthalate) plastic sheets refer to sheets made from a type of thermoplastic polymer that is commonly used in various applications due to its excellent combination of properties.
Features of 2.0 mm PET plastic sheet for vacuum forming
1. Optimal Thickness: Our 2.0 mm PET plastic sheet strikes the perfect balance between thickness and flexibility. It's sturdy enough to maintain its shape during the vacuum forming process, yet pliable enough to capture intricate details and contours.
2. Crystal Clear Transparency: Clarity is essential in showcasing your products. Our 2.0 mm PET plastic sheet offers exceptional transparency, allowing you to produce items with a stunning visual appeal. Whether you're crafting packaging, displays, or artistic pieces, the clarity of our 2.0 mm PET plastic sheet ensures your creations shine through.
3. Enhanced Durability: PET plastic is known for its exceptional durability. The 2.0 mm thickness provides increased resilience, ensuring that your formed products maintain their structural integrity throughout their lifecycle. This durability translates to reduced breakage and less waste, making it an eco-friendly choice.
4. Ease of Forming: The 2.0 mm PET plastic sheet has been specifically engineered to enhance the vacuum forming process. Its consistent thickness and even distribution of material ensure smooth and reliable forming, whether you're working on a small-scale prototype or a large production run.
5. Wide Range of Applications: From packaging inserts and trays to point-of-sale displays and automotive components, the possibilities are endless with our 2.0 mm PET plastic sheet. Its adaptability to various industries makes it a go-to choice for manufacturers and designers alike.
6. Eco-Friendly Option: PET plastic is recyclable, contributing to a more sustainable manufacturing process. Choosing our 2.0 mm PET plastic sheet not only benefits your projects but also reflects your commitment to environmentally conscious practices.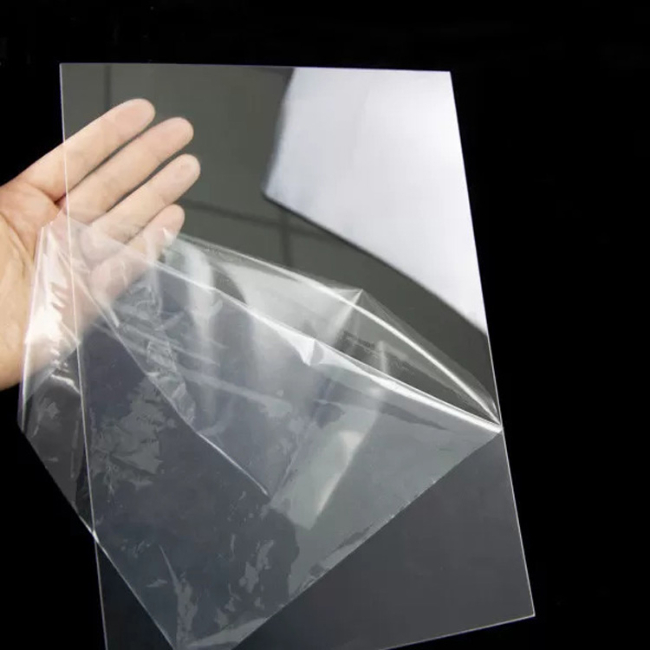 Application of 2.0 mm PET plastic sheet for vacuum forming
PET plastic sheet is a non-toxic and degradable environmentally friendly material. It is widely used in the Packages,Sign,Advertisement,Print ,Construction And So on.
(1)PET plastic sheet is widely used for the external packing of different kinds of products because of the good transparent.
(2)PET plastic sheet can be processed into trays of different shapes by vacuum thermal forming for food packaging, medical packaging, medical instrument packaging and ;electronics packaging.
(3)PET plastic sheet can be formed into different kinds of shapes by molds, which can be made into covers for clothes packing.
Application:chemical industry,oil industry,galvanization,water purification equipments, environment protection ; equipments,medical appliance and so on. important item: the sheet anti-stastic,anti-UV,anti-sticky
Introduction manufacturer's of 2.0 mm PET plastic sheet for vacuum forming
Desu Technology (Shanghai) Co., Ltd. is an enterprise specializing in the production of thermoforming plastic sheets. It is located in Nanhui Industrial Zone, Pudong New District, Shanghai, China, covering an area of more than 10,000 square meters.
It mainly produces and sells rigid plastic sheet rolls such as PET, APET, GAG, PETG, PS, PP, HIPS, PVC, etc. It has several advanced plastic sheet production lines with an annual output of more than 10,000 tons.
Our Service :
2.0 mm PET plastic sheet for vacuum forming
(1) We will offer you a price referring to your detailed request, so please kindly inform us of the material, thickness, size, color and other requirements you prefer, and the special offer will be given. If you don't know detailed information, we can give you our suggestions.
(2) We can supply free similar samples, but exact sample fee required .
(3) We can offer free slitting if you have special requirements for product size.
(4) We could promise to reply to you within 24 hours.
FAQ
1. How can I get the price?
The quotes within 24 hours after we got your specific requirements.
2. How can I get a sample?
The store samples are free, but you have to afford the express freight. And the customized samples will be ready in 5-7 working days and will be sent out via the express in 3-5 days.
3. How do you pack your goods?
Inner package: PE bag+ Kraft paper/PE wrapping+PP belt+Wooden Pallet.
4. When is your delivery time?
Generally we can finish the bulk orders within 10 days.