Brand: DESU
Origin: Shanghai, China
Width: 300-1400mm
Barrier material: Pet EVOH High Barrier Plastic Sheet Roll
Processing methods: Lamination / Multilayer co-extrusion
Thickness: 0.18-2.0mm
Weight: 50-150kg/roll
Shape: Roll/Sheet
Color: Pantone/Rousse custom color
MOQ: 5tons
What is Pet EVOH high barrier plastic sheet roll?
Pet EVOH high barrier plastic sheet roll is a type of packaging material specifically designed to provide excellent barrier properties against oxygen and moisture. "PET" stands for polyethylene terephthalate, which is a thermoplastic polymer known for its clarity, strength, and barrier properties. "EVOH" refers to ethylene vinyl alcohol, a copolymer known for its exceptional oxygen barrier characteristics.
The Pet EVOH high barrier plastic sheet roll combines these two materials to create a multi-layered structure. The PET layer provides strength, clarity, and heat resistance, while the EVOH layer acts as a barrier against oxygen and moisture. Additional layers such as adhesive or sealant layers may also be incorporated for enhanced functionality and ease of processing.
The sheet roll format allows for easy handling and processing in various packaging applications. It can be thermoformed, heat-sealed, or laminated onto other materials, making it suitable for different packaging formats such as trays, pouches, or lids.
The primary purpose of Pet EVOH high barrier plastic sheet roll is to protect and preserve food products. By preventing the entry of oxygen and moisture, it significantly extends the shelf life of perishable food items, reduces the risk of spoilage, and helps maintain the quality and freshness of the packaged goods.
Introduction of Pet EVOH High Barrier Plastic Sheet Roll for Food Packaging
We are excited to present our latest innovation in food packaging: The Pet EVOH High Barrier Plastic Sheet Roll for foodpacking This advanced packaging solution offers exceptional protection and preservation for various food products, ensuring their freshness and extending their shelf life.
Key Features:
High Barrier Properties: The Pet EVOH sheet roll is designed with excellent gas barrier properties, particularly oxygen and moisture. This prevents the entry of oxygen into the packaging, reducing the risk of spoilage, oxidation, and microbial growth. The barrier also prevents the loss of moisture, keeping the food products fresh and maintaining their quality.
Extended Shelf Life: By effectively blocking oxygen and moisture, the Pet EVOH sheet roll extends the shelf life of perishable food items such as meats, cheeses, and fresh produce. This not only minimizes food waste but also enables manufacturers and retailers to expand their distribution reach and reduce the frequency of restocking.
Transparency and Clarity: Our Pet EVOH sheet roll maintains exceptional transparency and clarity, allowing consumers to see the product inside without compromising the barrier properties. This enhances the visual appeal of the packaging, providing an enticing display of the food product and contributing to an enhanced consumer experience.
Versatile Applications: The Pet EVOH high barrier sheet roll is suitable for a wide range of food products, including fresh and processed meats, seafood, dairy products, bakery items, snacks, and more. Its versatility makes it an ideal packaging solution for various segments of the food industry.
Sustainable and Recyclable: We are committed to sustainability, and our Pet EVOH sheet roll is made from recyclable materials, contributing to a reduced environmental footprint. It aligns with the growing demand for eco-friendly packaging solutions while maintaining the highest standards of performance and product integrity.
Easy Handling and Processing: The Pet EVOH sheet roll offers excellent machinability, allowing for seamless integration into existing packaging processes. It can be easily thermoformed, heat-sealed, and printed, providing manufacturers with flexibility and efficiency in their operations.
We believe that our Pet EVOH High Barrier Plastic Sheet Roll will revolutionize food packaging by providing superior protection, extended shelf life, and sustainability benefits. It empowers food manufacturers, processors, and retailers to deliver high-quality products while meeting consumer demands for freshness and convenience. Contact us today to learn more about how our innovative packaging solution can benefit your business.
Specification of PET EVOH high barrier plastic sheet roll for food packaging
Thickness: 0.3-2mm
Max Width:300~ 900mm
Color:Customized color
Density: 0.91~0.95g/cm3
Certification:ROHS,MSDS,TDS,SGS,ISO9001
Raw Material:100% raw material
Grade: Food Grade Packaging
Sample: A4 size or free provide 10kg for test quality
Applicaion Industry:packing boxes, tray, disposable cup Printing (offset printing, inkjet printing, silk screen printing), folding boxs
Mold temperature:160℃-220℃
Molding shrinkage:1.0%-2.5%
Heat deflection temperature: 80℃-100℃, Good cracking resistance, High bending fatigue life, light weight, good toughness, excellent chemical resistance.
Manufacturer of PET EVOH high barrier plastic sheet roll for food packaging
DESU is a professional PET EVOH high barrier plastic sheet roll manufacturer. Our factory is located in Shanghai, China. We have advanced production equipment, professional production technicians, and our product quality is stable and reliable. Welcome friends from all over the world to inquire about product information.
Our technology
With 4 advanced PET sheet production lines, the PET workshop covers an area of more than 10,000 square meters, with a monthly output of 3,000-5,000 tons, which are sold all over the world.
Our advantages
Strict QC team, quality satisfaction rate meets 99%.
More than 10 set advanced automated equipment, meet high end quality requirements.
Free design service and fast sample lead time in 3 days.
Our quality
Strict quality inspection Adopt advanced testing equipment and manage.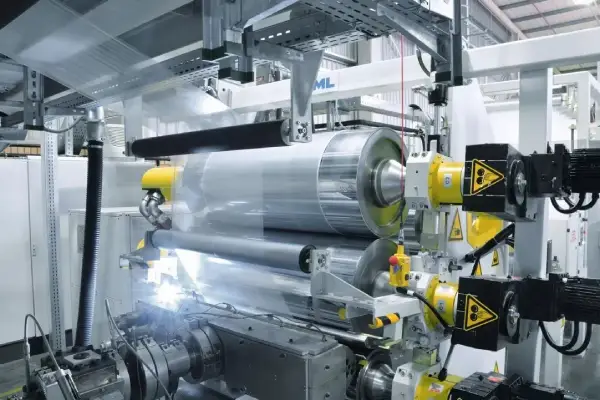 More products
We should be able to offer many other products besides PET EVOH high barrier plastic sheet roll for food packaging. For example: PET plastic sheet,PP plastic sheet, PS plastic sheet and other related thermal blister products.
If you want to know more information, please click here to consult us, our sales manager will contact you soon, looking forward to our cooperation. Your truest friend.