Specification
Product name: 0.18-2mm GAG Plastic Sheet Roll
Brand: DESU
Origin: Shanghai, China
Application: Thermoforming packaging material
Width: 300-1400mm
Thickness: 0.18-2.0mm
Weight: 50-150kg/roll
Shape: Roll/Sheet
Color: Transparent
MOQ: 5 tons
---
Introduction
GAG is composed of three layers, the outer layer PETG and the middle layer APET are co-extruded in proportion. This plastic sheet is a tough material with good adhesion at a competitive cost. Many blister products can be produced, especially suitable for packaging boxes that require high-frequency heat sealing and glue bonding.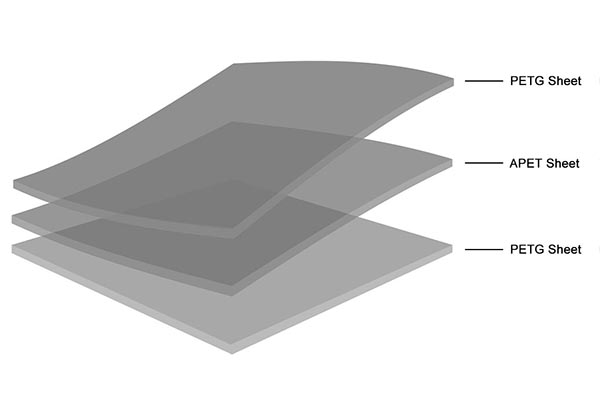 ---
Advantages of GAG Plastic Sheets
GAG sheet has good transparency, the transparency can reach more than 90%, and the texture is good.
GAG plastic sheet has excellent impact resistance and rigidity, is hard and durable, and is suitable for applications with high impact resistance.
GAG plastic sheets have excellent processability. Available in sawing, die cutting, drilling and laser cutting, as well as cold and hot bending, gluing, welding and polishing, printing and painting.
The thermoformability of GAG plastic sheet is good. It can be formed without preheating, with high precision, shrinkage rate of about 0.5%, good formability, no cracking, and uniform thickness.
GAG plastic is environmentally friendly, recyclable and does not pollute the environment.
GAG plastic sheets comply with food safety regulations and can be used in food trays, packaging boxes and other products.
---
Specification of GAG Sheet Roll
| | |
| --- | --- |
| Product name: | GAG Plastic Sheet Roll |
| Brand | DESU |
| Origin | Shanghai, China |
| Material | APET, PETG |
| Thickness | 0.18~2.0mm |
| Width | 300~1400mm |
| Weight | 50~150kg/roll |
| Shape | Roll/Sheet |
| Application | Thermoforming packaging material |
---
Our Service
Your inquiry will be answered as soon as possible.
If you pay the postage, you can get the sample for free
Large production capacity, short production cycle, and on-time delivery.
You are welcome to visit our factory in China anytime.
We support OEM service.