Brand: DESU
Origin: Shanghai, China
Width: 300-1400mm
Barrier material: Pet sheet transparent plastic sheet
Processing methods: Lamination / Multilayer co-extrusion
Thickness: 0.2-2.0mm
Weight: 50-150kg/roll
Shape: Roll/Sheet
Color:  Transparent/ Custom color
MOQ: 5tons
Description of Pet sheet transparent plastic sheet
Pet sheet transparent plastic sheet is PET (polyethylene terephthalate) sheet, also known as transparent plastic sheet, it is indeed a general-purpose thermoplastic in the polyester family. It has several desirable properties that make it suitable for packaging in various fields.
Feature of Pet sheet transparent plastic sheet
1. High stability.
Pet sheet transparent plastic sheets are known for their dimensional stability, meaning they retain their shape and size over time.
2. Excellent mechanical strength.
Pet sheet transparent plastic sheets They have excellent mechanical strength and are able to withstand shocks and loads without deformation.
3. Creep resistance.
Pet sheet transparent plastic sheet has good creep resistance, which means it can resist deformation when subjected to continuous stress for a long time.
4. Low hygroscopicity.
Pet sheet transparent plastic sheets are low hygroscopic, which means they have low water absorption. This characteristic makes them ideal for applications where moisture resistance is critical.
5. Low thermal expansion.
PET also exhibits low thermal expansion, which means it remains relatively stable over a wide temperature range.
6. Chemical resistance
Pet sheet transparent plastic sheet is chemical resistant, making it suitable for food processing machinery that is often exposed to chemicals and cleaning agents.
7. Excellent fire resistance and self-extinguishing property.
PET sheet has good fireproof properties. They are self-extinguishing, which means they will not support combustion once the source of ignition is removed. This property enhances their safety in various applications.
8. Food packaging safety
PET is considered safe for food packaging due to its non-toxic and non-reactive properties. It complies with regulatory requirements for food contact applications.
9. Chemical resistance and weather resistance.
PET sheets exhibit excellent resistance to chemical agents such as acids and bases, as well as to weathering, including UV radiation. These properties contribute to their longevity and durability in various environments.
10 .No need for pre-drying and rapid thermoforming.
PET sheets do not require pre-drying prior to the thermoforming process. This saves time and effort during production. PET has good thermal stability and can be quickly and efficiently formed into various shapes through vacuum forming, hot bending and other processes.
Application of Pet sheet transparent plastic sheet
Thermoforming is a manufacturing technique that involves heating a sheet of plastic until it becomes pliable, then using a mold to shape it into the desired shape. Therefore, Pet sheet transparent plastic sheet is usually used to make food trays, toy packaging, electronic chip packaging boxes, etc. by thermoforming process.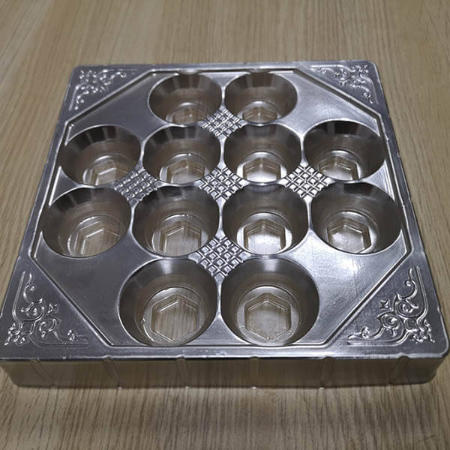 Manufacturer of Pet sheet transparent plastic sheet
Desu Technology (Shanghai) Co., Ltd. is an enterprise specializing in the production of thermoforming plastic sheets. It is located in Nanhui Industrial Zone, Pudong New District, Shanghai, China, covering an area of more than 10,000 square meters.
​We mainly produce and sell rigid plastic sheet rolls such as PET, APET, GAG, PETG, PS, PP, HIPS, PVC, etc. It has several advanced plastic sheet production lines with an annual output of more than 10,000 tons. These products are mainly used in packaging industries such as electronics, food, cosmetics, medical treatment, hardware tools, printing, etc., especially in the field of thermoforming.
If you want to know more about the product information, please feel free to contact me, our sales manager will give you the appropriate recommendation according to your needs, looking forward to your inquiry!