Description of transparent PET plastic sheet roll for vacuum forming
What is pet/polyethylene terephthalate?
PET (polyethylene terephthalate) is a general-purpose thermoplastic in the polyester family. PET sheet rolls are lightweight, strong and impact resistant. It is commonly used in processed food packaging due to its low moisture absorption, low thermal expansion and chemical resistance.
PET is an inert material and is considered a safe plastic by the Department of Health, so PET plastic sheet rolls are commonly used in food and beverage packaging. Similar to glass, PET sheet is hygienic and generally resistant to attack by bacteria and other microorganisms, and does not corrode, making it an ideal material for food and beverage contact and storage.
What advantages does Transparent PET plastic sheet roll for vacuum forming?
Compared with the widely used PVC film, Transparent PET Plastic sheet roll for vacuum forming has the following advantages:
1. Light weight:Transparent PET Plastic sheet roll for vacuum forming 1.33 is 3.7% lower than PVC 1.38 30 wire PVC card bubble
2. High strength: The strength of Transparent PET Plastic sheet roll for vacuum forming is more than 20% higher than that of PVC film. It has better resistance to low temperature impact and can withstand -40 ° C without brittleness. Therefore, 10% thinner film is usually used to replace PVC.
3. Good folding resistance. Transparent PET Plastic sheet roll does not show self-cracking creases like PVC, and is more suitable for surface decoration such as documents.
4. Polyethylene PET Plastic Roll for vacuum forming has high transparency (PVC film is bluish), especially the gloss is better than PVC film, more suitable for exquisite packaging.
5. Transparent PET Plastic sheet roll for vacuum forming have no pollution, no crystal point, high transparency, good smoothness, and strong impact resistance. They can be widely used in plastic packaging, folding boxes, cylinders and other fine packaging and various printed windows, and can produce various according to customer requirements Color film.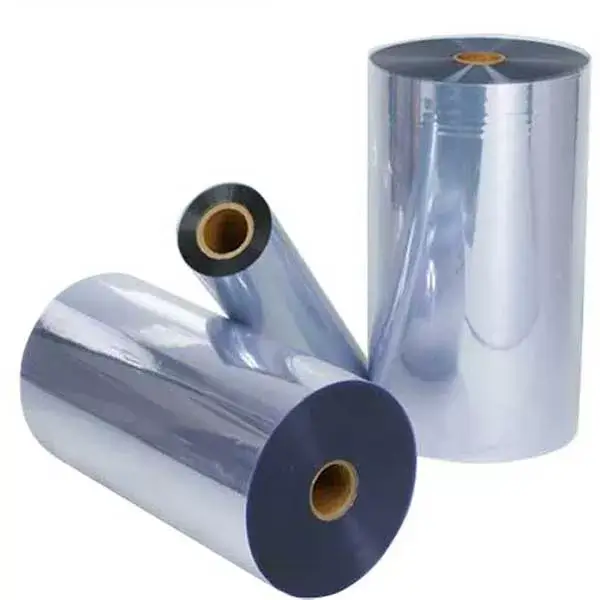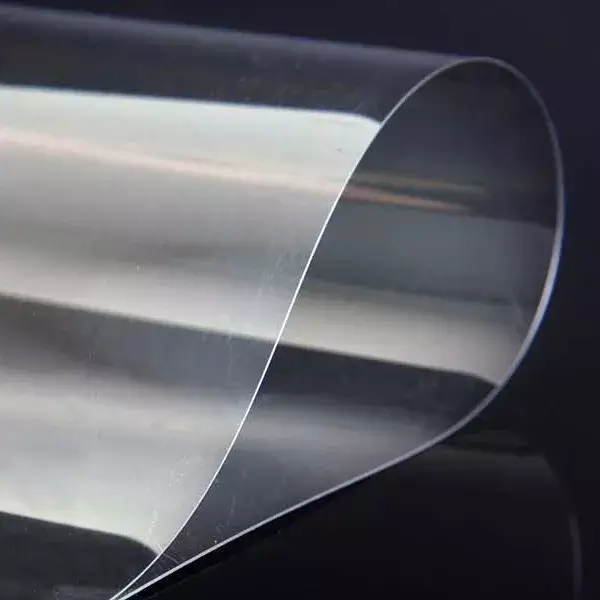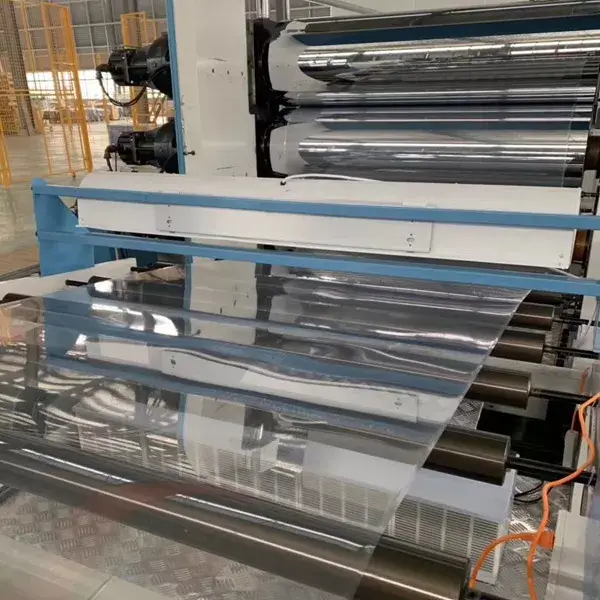 Which packaging can transparent PET plastic sheet roll for vacuum forming be used for?
Pet blister is the PET sheet rolled through the vacuum blister molding process and made of blister products. Transparent PET plastic sheet roll for vacuum forming toughness is good.
With its excellent toughness, high strength, high transparency, as well as recycling, easy combustion, combustion does not produce harmful gases, belongs to environmental protection materials and gradually replace PVC..
PET sheet is the most transparent sheet among all the blister sheets, with a good display effect.It is suitable for making high-grade packaging products.
Food-grade PET sheets are widely used in the fruit and vegetable, pastry and food industry. It not only plays the role of dustproof health and product protection, but also can display products, improve product grade and promote consumers' desire to buy.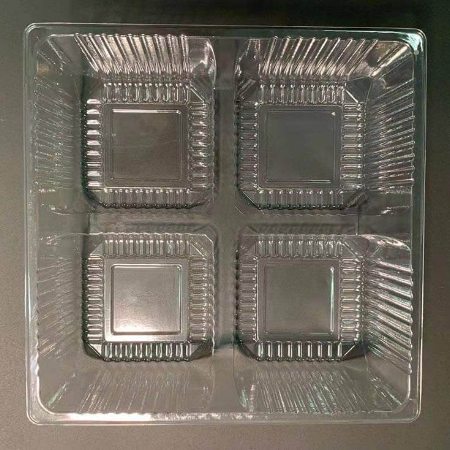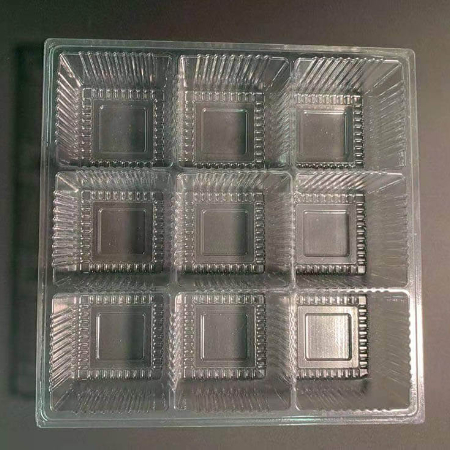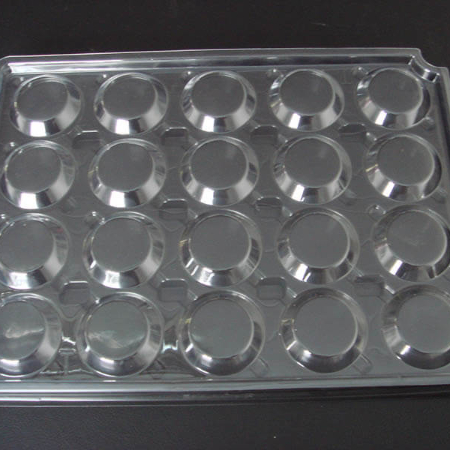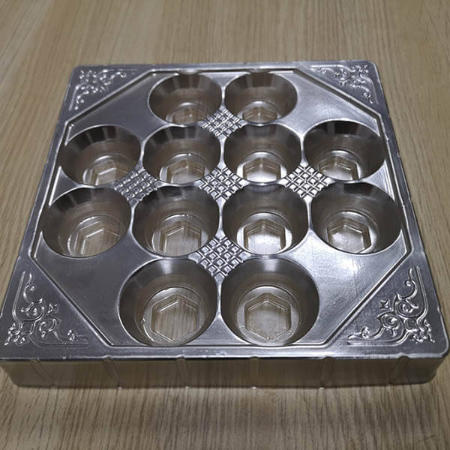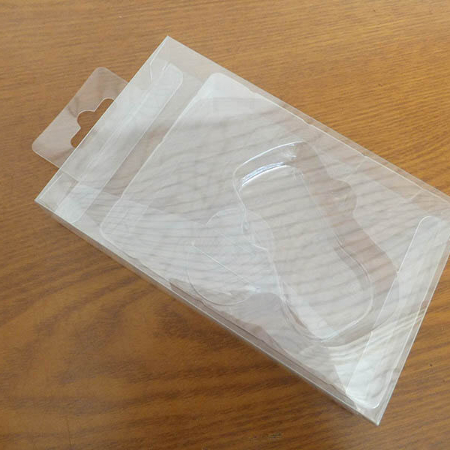 Parameters of transparent PET plastic sheet roll for vacuum forming
| | |
| --- | --- |
| Product name | Transparent PET plastic sheet roll for vacuum forming |
| Product Category | APET, PETG, GAG, RPET, PET/EVOH/PE, PET/EVOH/PET, PET/PE, etc. |
| Shape | Roll/Sheet |
| Thickness | 0.18~2.0mm |
| Width | 300~1400mm |
| Quality | Virgin/Recycled |
| PET Roll Diameter | ≤38 inch |
| Die Cutting Size | A2, A3, A4 or customized according to requirements |
| Packing | PE film inside + kraft outside+pallet (paper tube diameter: 76mm, thickness: 10mm) |
| Color | Clear, White, Blue, Brown, Pink, Green, Yellow or Customized |
| Performance | Anti-fog, ESD (Anti-static, Conductive, Static dissipative), Corona, Printing, Coating, High impact, EVOH high barrier, Waterproof, Oil-proof, Anti-UV, etc. |
| Processing technology | Thermoforming Vacuum Blister Forming, Die Cutting |
| Hardness | Rigid/Semi-rigid |
Manufacturer of transparent PET plastic sheet roll for vacuum forming
Our Factory
Desu Technology (Shanghai) Co., Ltd. is an enterprise specializing in the production of thermoforming plastic sheets. It is located in Nanhui Industrial Zone, Pudong New District, Shanghai, China, covering an area of more than 10,000 square meters.
​We mainly produce and sell rigid plastic sheet rolls such as PET, APET, GAG, PETG, PS, PP, HIPS, PVC, etc. It has several advanced plastic sheet production lines with an annual output of more than 10,000 tons. These products are mainly used in packaging industries such as electronics, food, cosmetics, medical treatment, hardware tools, printing, etc., especially in the field of thermoforming.
Our Service
Strict Quality Inspection
Pulixin strictly controls the quality of its products, thanks to our use of advanced testing equipment and management methods.
Product Certificate
Our Thermoformed plastic sheet roll has been awarded various special train certificates. In line with international standards, please consult us for more information.
Protective Packaging for Shipping
Step 1: Two Flow PE protect film.
Step 2: On the outside, PE film will be wrapped with aluminum foil which has great function on heat proof, water proof and scratch proof.
Step 3: Each layer of the material roll will be separated by cardboard to prevent collision.
Step 4: The shipping mark indicates product specifications and the QR code which can track the source of the product producing information.
to ensure the quality of each batch of goods.
Step 5: The outer layer is wrapped with cardboard and wrapped with film to prevent the outer packing from scratched and collision.
Step 6: Top of each pallet will be covered with paperboard and the bottom is a non-fumigation wooded tray.
(The following figure, from left to right, is the packaging order)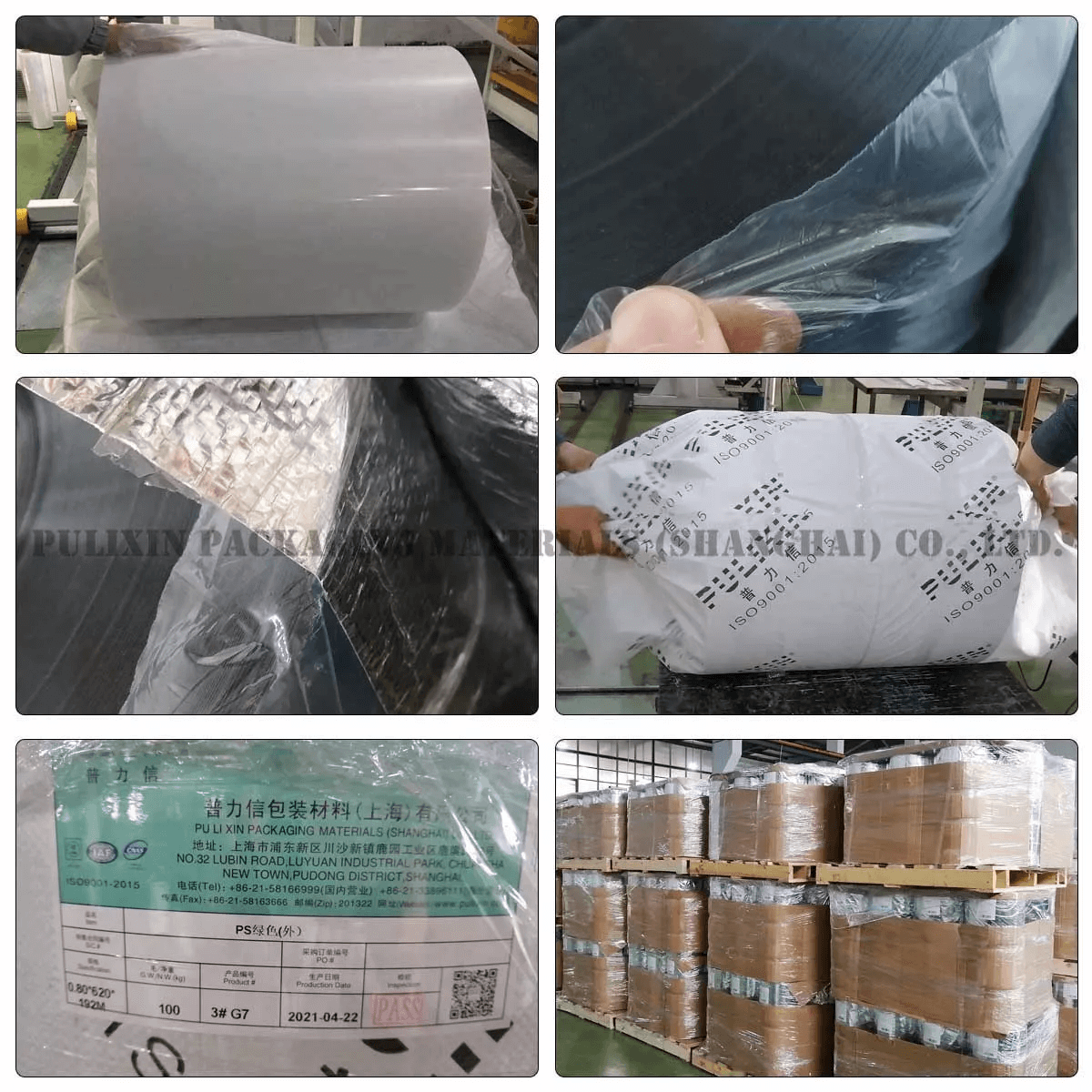 Transportation
Our delivery methods include sea, air, railway and international express. Before the product is transferred, we will fix the packaged product in the container to ensure that it is waterproof, fireproof, and squeezed to ensure that it is safely delivered to the customer.