Product name: Transparent Rigid PET Sheet for Blister Packing
Brand: DESU
Origin: Shanghai, China
Width: 300-1400mm
Thickness: 0.18 -2.0 mm
Weight: 50-150kg/roll
Color: Transparent or colored sheet roll
Molding Process: Thermoforming Vacuum Blister Forming
MOQ: 5 tons
Introduction of Transparent Rigid PET Sheet for Blister Packing
What is pet plastic sheet ?
PET plastic sheet (polyethylene terephthalate) is a common thermoplastic with high stability, excellent mechanical strength and good creep resistance. PET is chemically resistant, has very low hygroscopicity and is a good electrical insulator.
PET material is economical and versatile, and is currently one of the most productive plastics in the world. Through different additives, it can show different physical and mechanical properties, suitable for different purposes, such as conductive PET plastic sheets can be used for blister packaging of electronic products. Adding appropriate amount of plasticizer can be made into hard, soft and transparent products.
What is blister packaging?
Blister packaging is formed by heating a piece of plastic sheet and cooling it, and different molds can form different styles of blister packaging. PET plastic sheets can be used in thermoforming to make medical packaging, food packaging, clam shell packaging, blister packaging, domes, etc.
What are the types of pet sheets?
APET (Amorphous Polyethylene Terephthalate) Plastic Sheet
APET plastic sheet roll is a thermoplastic and environmentally friendly plastic product. Its side material and waste can be recycled. The chemical elements it contains are carbon, hydrogen, and oxygen like paper, which is a degradable plastic. After the packaging products made of this material are discarded, they eventually become water and carbon dioxide.
PETG (Polyethylene Terephthalate Glyco) Plastic Sheet.
PETG plastic sheet roll has outstanding toughness and high impact strength, its impact strength is 3-10 times that of modified polyacrylates, and it has a wide processing range, high mechanical strength and excellent flexibility, and is more transparent than PVC High, good gloss, easy to print and has environmental advantages.
GAG Plastic Sheet Roll
GAG plastic sheet roll is a three-layer composite sheet. It is a three-layer composite sheet produced by co-extrusion of the middle layer APET and the upper and lower layers of PETG raw materials in an appropriate proportion. It is especially suitable for packaging boxes that need to be bonded by high-frequency heat sealing and glue.
RPET Plastic Sheet Roll
RPET (recycled polyethylene tetraphyte) sheet roll is a new type of environmentally friendly recycled sheet, which is extracted from discarded plastic products. It can effectively save raw materials and is beneficial to environmental protection.
Advantage of Transparent Rigid PET Sheet for Blister Packing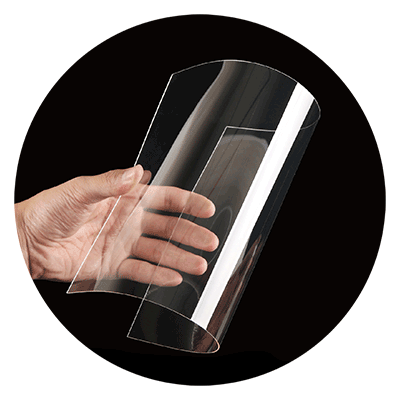 • High chemical stability, good fire resistance and ultra-transparency.
• High UV stability, good mechanical properties, high hardness and strength.
• Good aging resistance, good self-extinguishing and reliable insulation.
• Waterproof, smooth surface, not easy to deform.
• Anti-static, anti-UV, anti-stick
Application of Transparent Rigid PET Sheet for Blister Packing
Transparent Rigid PET Sheet for Blister Packing is widely used in the blister packaging of electronics, hardware, stationery, cosmetics, gifts and other industries, but also can be used in the production of windows, folding boxes, plastic tubes.
Specifications of Transparent Rigid PET Sheet for Blister Packing
| | |
| --- | --- |
| Name | Transparent Rigid PET Sheet for Blister Packing |
| Category | PETG, APET, GAG, RPET |
| Brand | PULIXIN |
| Certificate | Certificate SGS, ROHS, ISO, TDS, MSDS, etc |
| Origin | China |
| Color | Transparent/White/Black/Color |
| Width | 300~1400mm |
| Thickeness | 0.18~2.0mm |
| Performance | Anti-fog, ESD, Anti-static, Conductive, Static dissipative. Printing, Coating; EVOH, Waterproof, etc |
| Processing | Thermoforming Vacuum Blister Forming, Die Cutting |
| Length | No limit |
| Weight Per Roll | 50-200kg or customized |
| MOQ | 1 tons |
| Monthly Production | 3000~5000 tons |
| Delivery Methods | Ocean shipping, air transportation, express, land transportation |
| Global Market | Europe, South America, North America, Europe, Central Asia, Southeast Asia, South Asia, Middle East, Australia, etc. |
| Payment Term | Payment Term Credit card, T/T, L/C, Western Union, Paypal. |
Other Plastic Sheet Recommended
In addition to Transparent Rigid PET Sheet for Blister Packing, the company has many other plastic sheet rolls for you to choose from.
Introduction Manufacturer of Transparent Rigid PET Sheet for Blister Packing
Pulixin Packaging Materials (Shanghai) Co., Ltd. is a professional Polyethylene terephthalate (PET) sheet manufacturer located in Shanghai, China. We produce a variety of high-quality rigid blister PET sheet rolls, which can reach food grade. If you plan to buy transparent rigid PET sheet for blister packing, please contact us, welcome to visit Pulixin!
Our technology
With 4 advanced PET sheet production lines, the PET workshop covers an area of more than 10,000 square meters, with a monthly output of 3,000-5,000 tons, which are sold all over the world.
Our advantages
Strict QC team, quality satisfaction rate meets 99%.
More than 10 set advanced automated equipment, meet high end quality requirements.
Free design service and fast sample lead time in 3 days.
Our quality
Strict quality inspection Adopt advanced testing equipment and management methods to strictly control product quality.