Brand: DESU
Origin: Shanghai, China
Width: 300-1400mm
Barrier material: Pet plastic thermoforming sheet
Processing methods: Lamination / Multilayer co-extrusion
Thickness: 0.18-2.0mm
Weight: 50-150kg/roll
Shape: Roll/Sheet
Color: Transparent /Custom color
MOQ: 5tons
Description of Pet plastic thermoforming sheet
Pet plastic thermoforming sheet is made of Polyethylene Terephthalate (PET) plastic. It is commonly used for food, electronics and pharmaceutical packaging.
What is Polyethylene Terephthalate (PET) plastic?
Polyethylene terephthalate (PET) plastic is an abbreviation of Polyethylene terephthalate, the chemical formula is (C10H8O4) n.
It is synthesized by the exchange of dimethyl terephthalate and ethylene glycol ester (or terephthalic acid and ethylene glycol specification) to obtain p-benzene Dihydroxy ethyl dicarboxylate, and then subject it to polycondensation reaction. It is a crystalline saturated polyester.
It is a milky white or light yellow, highly crystalline polymer with a smooth and shiny surface. It is a common resin in life and can be divided into APET, GAG and PETG.
APET (Amorphous Polyethylene Terephthalate)
APET is a thermoplastic and environmentally friendly plastic product. Its side material and waste can be recycled. The chemical elements it contains are carbon, hydrogen, and oxygen like paper, which is a degradable plastic. After the packaging products made of this material are discarded, they eventually become water and carbon dioxide.
PETG (Polyethylene Terephthalate Glyco)
PETG sheet has outstanding toughness and high impact strength, its impact strength is 3-10 times that of modified polyacrylates, and it has a wide processing range, high mechanical strength and excellent flexibility, and is more transparent than PVC High, good gloss, easy to print and has environmental advantages.
GAG
GAG is a three-layer composite sheet. It is a three-layer composite sheet produced by co-extrusion of the middle layer APET and the upper and lower layers of PETG raw materials in an appropriate proportion. It is especially suitable for packaging boxes that need to be bonded by high-frequency heat sealing and glue.
Product features of Pet plastic thermoforming sheet
1. Pet plastic thermoforming sheet has good mechanical properties, the impact strength is 3-5 times that of other plastic sheets, and the folding resistance is good.
2. Resistance to oil, fat, enoic acid, dilute alkali, and most solvents.
3. Excellent high and low temperature resistance, long-term use is within 120℃, short-term use can withstand high temperature of 150℃, low temperature of -70℃, and high and low temperature have little effect on its mechanical properties.
4. Low gas and water vapor permeability, with excellent gas barrier, waterproof, oil-proof, and odor-proof performance.
5. High transparency, can block ultraviolet rays, good gloss.
6. Pet plastic thermoforming sheet is non-toxic, tasteless, has good hygiene and safety, and can be directly used for food packaging
Pet plastic thermoforming sheet advantages
1. Light weight.
2. Low thermal conductivity.
3. Good impact resistance.
4. Anti-static.
5. Aging resistance.
6. Resistance to chemical (acid, alkali and organic solvent) corrosion.
7. Good wear resistance.
8. It can be recycled.
Product application of Pet plastic thermoforming sheet
Pet plastic thermoforming sheets are widely used in food packaging, electronic products, cosmetic packaging, and medical protection.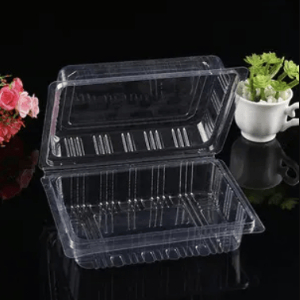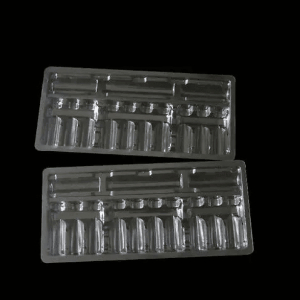 Product application of Pet plastic thermoforming sheet
| | |
| --- | --- |
| Product name | Pet Plastic Thermoforming Sheet |
| Product Category | APET, PETG, GAG, RPET, PET/EVOH/PE, PET/EVOH/PET, PET/PE, etc. |
| Shape | Roll/Sheet |
| Thickness | 0.18~2.0mm |
| Width | 300~1400mm |
| Quality | Virgin/Recycled |
| PET Roll Diameter | ≤38 inch |
| Die Cutting Size | A2, A3, A4 or customized according to requirements. |
| Packing | PE film inside + kraft outside+pallet (paper tube diameter: 76mm, thickness: 10mm) |
| Color | Clear, White, Blue, Brown, Pink, Green, Yellow or Customized. |
| Performance | Anti-fog, ESD (Anti-static, Conductive, Static dissipative), Corona, Printing, Coating, High impact, EVOH high barrier, Waterproof, Oil-proof, Anti-UV, etc. |
| Processing technology | Thermoforming Vacuum Blister Forming, Die Cutting. |
| Hardness | Rigid/Semi-rigid |
Other product recommendations
In addition to Pet plastic sheet, our company can also provide you with PP plastic sheet roll, PS plastic sheet roll, PVC plastic sheet roll and their extension products. For more information, please contact us.