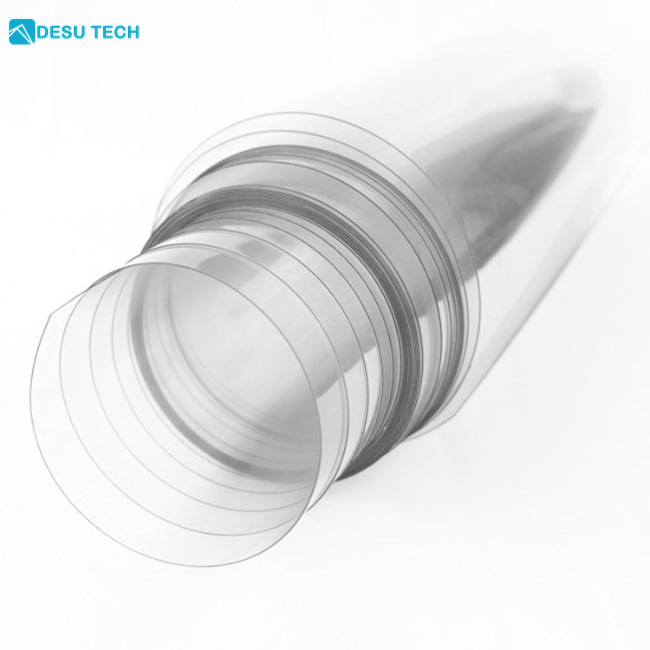 Brand: DESU
Origin: Shanghai, China
Width: 300-1400mm
Barrier material: PET Plastic Sheet
Thickness: 0.2-2.0mm
Weight: 50-150kg/roll
Shape: Sheet/ Roll
Color:  Clear/ Custom colors
Processing methods: Lamination / Multilayer co-extrusion
MOQ: 5tons
Product introduction of Pet plastic sheet
PET plastic sheet, also known as Polyethylene Terephthalate, is a thermoplastic polymer resin that is commonly used in packaging applications, including food and beverage containers, blister packaging, and clamshell packaging.
PET plastic sheet is lightweight, strong, and transparent, which makes it an ideal material for a wide range of packaging needs. Additionally, PET plastic is recyclable and can be made into a variety of products such as fibers, films, and sheets.
Due to its excellent properties, PET plastic sheet is a popular choice for many industries, including food and beverage, medical, and consumer goods.
Product parameter of Pet plastic sheet
| | |
| --- | --- |
| Product name | PET Plstic Sheet, Polyethylene Terephthalate Plastic Sheet, PET Rollstock, Polyester Sheet, Rigid PET Film. |
| Product Category | APET, PETG, GAG, RPET, PET/EVOH/PE, PET/EVOH/PET, PET/PE, etc. |
| Shape | Roll/Sheet |
| Thickness | 0.2~2.0mm |
| Width | 300~1400mm |
| Quality | Virgin/Recycled |
| PET Roll Diameter | ≤38 inch |
| Die Cutting Size | A2, A3, A4 or customized according to requirements. |
| Packing | PE film inside + kraft outside+pallet (paper tube diameter: 76mm, thickness: 10mm) |
| Color | Clear, White, Blue, Brown, Pink, Green, Yellow or Customized. |
| Performance | Anti-fog, ESD (Anti-static, Conductive, Static dissipative), Corona, Printing, Coating, High impact, EVOH high barrier, Waterproof, Oil-proof, Anti-UV, etc. |
| Processing technology | Thermoforming Vacuum Blister Forming, Die Cutting. |
| Hardness | Rigid/Semi-rigid |
Production process of Pet plastic sheet
The production process of PET plastic sheet typically involves the following steps: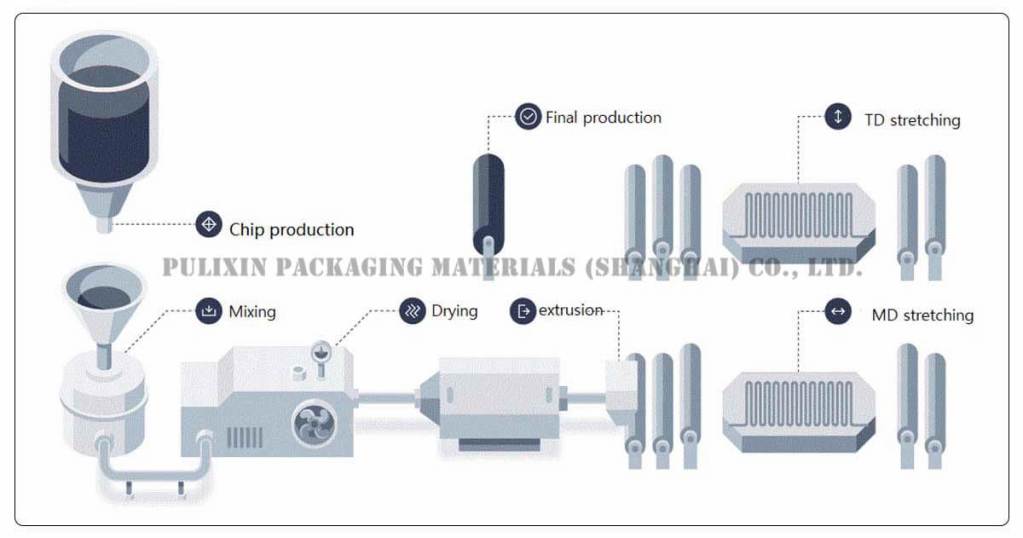 Raw Material Preparation
The first step is to prepare the raw materials required for the production of PET plastic sheets. The primary raw material used is PET resin, which is typically purchased in the form of pellets. Other additives, such as colorants and stabilizers, may also be added at this stage.
Extrusion
The prepared raw materials are then fed into an extruder, which is a machine that melts and mixes the materials together. The molten mixture is then pushed through a die to create a flat sheet. The extrusion process is typically continuous, meaning that the sheet is produced in a long roll.
Cooling
As the PET plastic sheet is extruded, it is cooled using a series of rollers or a water bath. This helps to solidify the sheet and ensure that it has a consistent thickness.
Cutting
Once the PET plastic sheet has been cooled and solidified, it is cut to the desired length. This may be done using a guillotine cutter or a rotary cutter.
Finishing
Finally, the PET plastic sheet may be finished with various treatments or coatings, depending on the intended use.
For example, it may be laminated with another material, coated with a UV-resistant layer, or embossed with a pattern.
Product advantage of Pet plastic sheet
1. Pet plastic sheets have good mechanical properties, impact strength is 3 to 5 times that of other sheets, and good folding resistance.
2. Resistance to oil, fat, dilute acid, dilute alkali, and most solvents.
3. Pet plastic sheet has excellent resistance to high and low temperatures.
It can be used for a long time within a temperature range of 120°C, and can withstand high temperatures of 150°C and low temperatures of -70°C in short-term use, and has little effect on its mechanical properties at high and low temperatures.
4. The gas and water vapor permeability is low, and it has excellent gas, water, oil and odor resistance.
5. High transparency, can block ultraviolet rays and good gloss.
6. Non-toxic, tasteless, good hygiene and safety, and can be directly used for food packaging.
Manufacturer introduction of Pet plastic sheet
DESU PET Sheet Factory
Desu Tech factory covers an area of more than 1,0000 square meters, located in Shanghai, China. It has 6 co-extrusion production lines. Using international advanced equipment and production technology, it can produce PET sheets with a thickness of 0.18~2.0mm.
Strictly Control Product Quality
DESU has established a quality inspection department with professionals responsible for quality inspection. We have been cooperating with large-scale raw material companies for a long time. All raw materials are provided with inspection reports. The entire quality management process from raw material entry to production processing and finished product inspection is strictly implemented and passed ISO9001: 2008 quality management system certification. In response to market demand, we continue to develop and innovate high-quality products.
Ship to The Worldwide
DESU PET sheet rolls are exported to many countries around the world. Our market is oriented to Southeast Asia, the Middle East, Europe, South America, North America, Africa, Central Asia, South Asia, etc. Regardless of your demand, we can produce it within the specified time. No matter how far away the customer's country is, we can make your products arrive in time. As a model enterprise in China's plastics industry, DESU will further explore the international market and look forward to cooperating with you.
Global Recyclable Standard (GRS) Certificate
At present, there are many disposable consumer products in PET products, which produce a large amount of waste PET materials, which are not easily degraded by air or microorganisms in a short period of time, causing pollution. Therefore, encouraging the recycling and reuse of recycled waste PET materials is of great significance to environmental protection and resource conservation.
More product choices
In addition to PET plastic sheets, Desu Technology can also provide you with APET, GAG, RPET, PETG, PVC, PP, PS plastic sheets and other related plastic sheets.
If you want to know more information, please click here to consult us, our sales manager will get in touch with you later.